Carriers

Ballenger Motorsports ships through FedEx, UPS, USPS and DHL to most locations in the world.

Can you ship using my UPS, FedEx, etc. Account?

Yes! Ballenger Motorsports allows customers to ship on their accounts using UPS and FedEx. This option is available on our checkout page. Any specialty requests not listed such as insurance, import information, Saturday Delivery or Signature Exemption can be mentioned in the comments / special instructions box.

How do I estimate my shipping costs?

Simply choose the item(s) you wish to purchase, add them to your cart and click the "estimate shipping" button. This can be done when you add the items to your cart or at any time after by clicking the "estimate shipping" button listed with your shopping cart items on any page in our online store. Our shipping estimator only needs to know your zip code and your country to determine shipping to all domestic and international locations.





Can you reduce the customs value or mark the product as a gift?

No. Our system automatically generates export invoices and we have to submit the information to our government. Falsifying this information breaks our automation and has severe federal consequences. We hope countries will adopt fair trade policies in the future. In some cases, there may be multiple applicable Harmonized codes for a particular good. Some codes may offer favorable taxation. If this is the case, you may suggest your harmonized code for the item(s) and we can investigate.


How quickly will we ship?

Most orders placed before 1:30PM EST on a business day will go out the same day, assuming everything is in stock. Otherwise, we will attempt to ship your order the next business day if all of your items are in stock. If we don't have part of your order in stock we will attempt to contact you to determine how you would like to proceed. Special order items will not ship same day. Some orders may require finalization steps such as testing. We do not ship on holidays per our holiday schedule (click here for schedule). USPS, UPS, & FedEx maintain their own holiday schedules. USPS pickup times may vary and we recommend time specific shipments use UPS.

My Shipment is Time Critical!

USPS shipping methods are not time definite or guaranteed. If you need a package by a certain date, you should choose a date definite method from FedEx or UPS. UPS & FedEx orders are handled in our shipping queue first and UPS has the most reliable pickups at our location.

I ordered last night with Next Day Air Shipping, why isn't my package here?

If you ordered last night or past our daily cutoff time, we process your order as soon as possible (our next business day). Your package will arrive the next business day after we process and ship your order.

I placed an order on Friday for UPS/FedEx Next Day Air, when will my package arrive?

The next business day, Monday. UPS ships Monday through Friday unless Saturday delivery is chosen. Saturday delivery is an option available in some regions which incurs additional fees. Contact us if you need your package delivered on a Saturday.

Effective 3/26/2020, UPS money-back guarantee suspended

Effective 3/26/2020 until further notice, UPS has suspended all money-back guarantees for on-time delivery. While regular service continues and most packages are being delivered on schedule, the on-time rate for UPS shipments is lower than normal during this unprecedented period. More detail can be found here.

How does UPS calculate delivery dates?

UPS offers shipping values in business days (Monday-Friday). UPS & FedEx do not consider Saturday and Sunday business days and they do not deduct from your business day esimated delivery time.

How fast is shipping?

Once our products leave our hands they are at the discretion of our shipper. In most situations they will provide you with your order in the amount of time you have specified or less.



FedEx Ground Service Shipping MAP




If you are on the edge of a shipping zone or have any questions about date definite delivery, you may go to fedex.com for a shipping quote as shipped from our zip code (23111) or call us for clarification. If you need a package by a certain date, please get a date definite delivery method or check with us first as we are not responsible for mis-interpretations of this shipping map.


UPS Ground Service Shipping MAP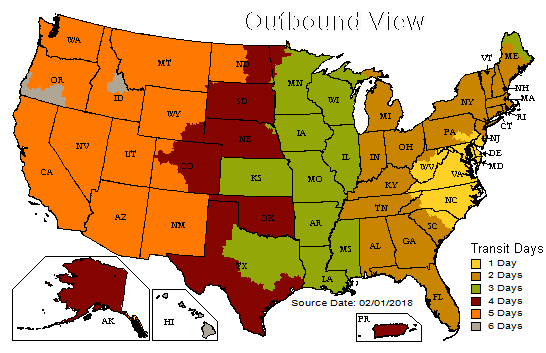 If you are on the edge of a shipping zone or have any questions about date definite delivery, you may go to ups.com for a shipping quote as shipped from our zip code (23111) or call us for clarification. If you need a package by a certain date, please get a date definite delivery method or check with us first as we are not responsible for mis-interpretations of this shipping map.


My USPS Package shows no tracking or updates. Did you ship it?

Yes. When our automatic emails are generated with tracking, the package is leaving our facility on that date. USPS First Class Mail does NOT OFFER TRACKING. USPS Priority Mail offers inconsistent tracking. Please keep in mind that we are merely passing our package to the shipper of your choice. USPS Priority Mail has inconsistent tracking and USPS First Class Mail has no tracking. If you want consistent tracking and date definite delivery, please choose UPS or FedEx.


My Package shows that it was delivered but I did not get it!

The solution we list may seem obvious on the surface but it has resolved over 90% of the cases we receive emails or calls about:
Check with all of your household members. Family, roommates, etc.
Check with your neighbors to see if they picked up the package for you or if the package was delivered to the wrong location.
Check with your Landlord / Main office / Checkpoint office to see if the package was left with them. If there is a bulk mailing area double check this area.
Check with the delivery person assigned to your route and/or the local delivery office that delivers to your location. Sometimes the package will not fit in your mailbox and the package is left at an alternate location.
Check with your local Mail Office / Delivery Hub and/or Postmaster General for your area.
If the steps above have provided no resolution, please contact the shipping vendor at the numbers below. The shipping companies are required to speak to the intended recipient of the package to validate that the item has not been received.

UPS Domestic -> 1-800-PICK-UPS (1-800-742-5877)
UPS International -> (click here for contact information)
FedEx Domestic -> 1-800-Go-FedEx (1-800-463-3339)
FedEx International -> (click here for contact information)
USPS Domestic -> 1-800-ASK-USPS (1-800-275-8777)
USPS International -> (click here for contact information)